Rain night traffic reflective marking, also known as all-weather reflective marking, refers to highway traffic reflective marking that can reflect light on the surface of the marking line under dry, wet and continuous rainfall.
Yellow and white lines, high reflective brightness, do not affect the color of the line, and ensure that the effect of reflective light is good. Special Glass Beads For Raining Night Road Marking we also called All Weather High Reflective Glass Bead.
Normal grade glass beads for marking like 1.5 index works well and it has good reflective result in the nigh time without raining. But in Wet Raining Night, it will be dark. our factory has a solution for this.
(1) Hot-Melt Coating
(2) Double Component Coating
(3) Water Borne Paint
(1) High Reflective Index in Wet Raining Night
(2) High Retro-reflective more than 350mcd while Durability Of Retro-reflective is more than 150mcd after 1 year
(3) Appearance: All Colors Available: Green, Blue, Red, Yellow, Silver, White
(4) Retro-Reflective index is 350 in dry condition and more than 250mcd in wet raining night.
(5) Gravity: 2.4-2.5g/cm3
(6) Road Marking Line Consumption per Square Meter: 180grams (half of 1.5 index glass beads)
(7) Chemical Composition: TiO2 BaO SiO2 ZrO2 etc.
(8) Size: 0.6-0.8mm, 0.8-1.0mm, 1.0-1.5mm etc.
The majority of fatal traffic crashes occur at night, with the death rate estimated at between three and four times higher than during the day when adjusted for distance travelled.
Thermoplastic Paint Drop-On Glass Beads get their reflective properties by the embedment of glass beads in the marking material. Reflective Glass beads,also Intermix Glass Beads For Road Marking have the ability to reflect incoming light of the driver´s headlight, thus making the markings visible at night.
Driving in dark conditions becomes more dangerous when it rains and impairs the visibility of the road marking dramatically. Rain can form a film of water on the marking, thus impeding the Rain Night Reflective Glass Beads from reflecting the lights of the passing traffic.
combined and covered by non-transparent micron beads.

Excellent optical design provides superior retro-reflectivity in dry and wet conditions.

Reasonable structure design, high compressive strength, Rainy Night Glass Beads Special Rainy Night Road, good flowability improves uniformity of drop-on and good adhesion with various paint.

Long reflective distance, and various reflective colors.

reasonable optical design, special optical structure and material ensure the retroreflective durability of All-weather Rain Night Reflective Glass Beads even in wet condition. Provide road markings with high-bright visibility , we reform traditional glass beads such as Pavement Coated Glass Beads' single-point retroreflection into clustering, plural-point and high bright retroreflection. road markings with all-weather reflective glass beads have high-bright visibility. rain night reflective glass beads excellent retro-reflectivity improves reflective distance considerably no matter during the day or in rainy nights, high reflective glass beads provides the driver with all-weather visibility.

reasonable optical design, special optical structure and material ensure the retroreflective durability of all-weather high reflective glass beads even in wet condition.

take one highway for example, one year after its road marking is completed, test report shows that Yellow Road Marking in Heavy Rain coefficient of retroreflected luminance RL stabilized at 200mcd/m-2 in dry condition, and 150mck/m-2/lx-1 in wet condition, which proves the retroreflective durability of all-weather high reflective glass beads.



Variety of drop-on for reflective road marking.

Variety of intermix for reflective paint.

Drop-on for reflective anti-slip/anti-skid road marking.

Drop-on for decorative paint.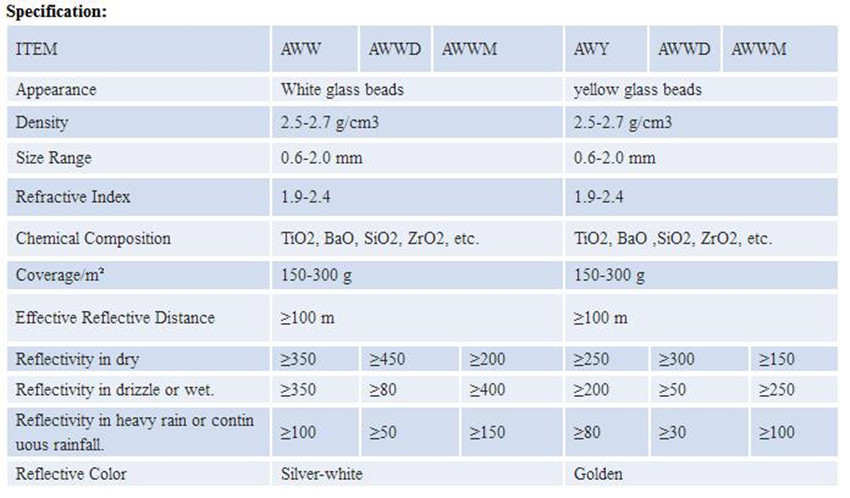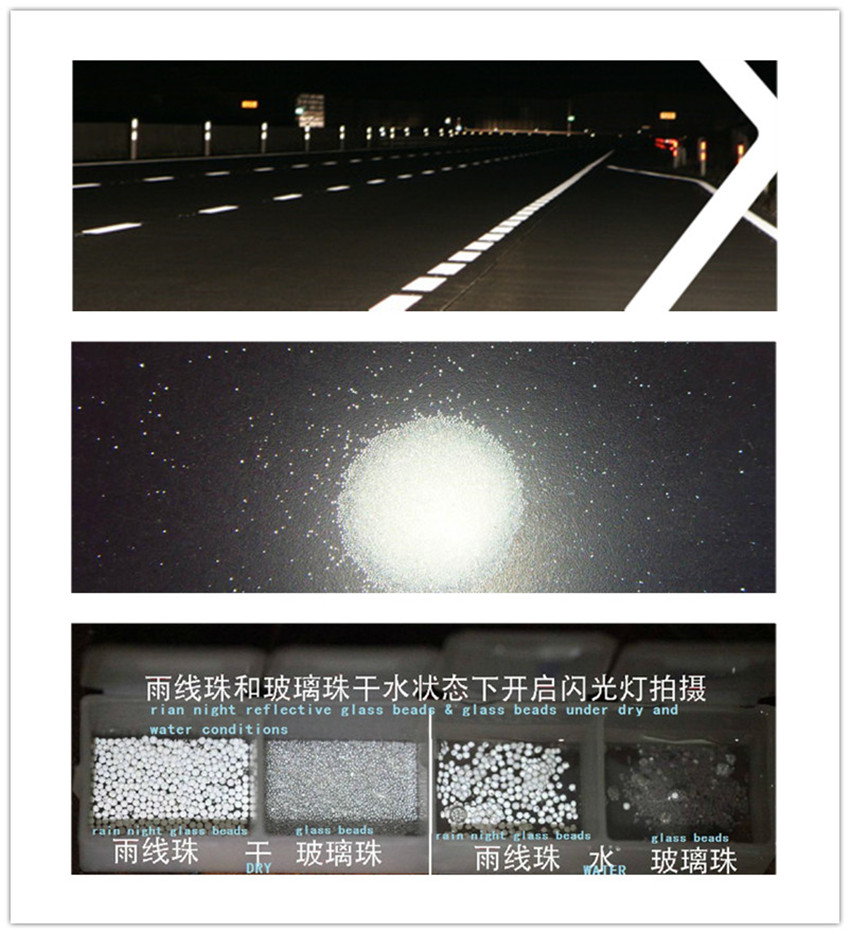 Looking for ideal Wet Rainfall Rain Road Glass Beads Manufacturer & supplier ? We have a wide selection at great prices to help you get creative. All the Rainy Wet Road Glass Beads Marking are quality guaranteed. We are China Origin Factory of Road Paint Marking Glass Beads. If you have any question, please feel free to contact us.
Product Categories : All-weather Rain Night Reflective Glass Beads