AASHTO M247 Glass Beads, BS 6088 Reflective Glass Beads, Pavement Coated Glass Beads, Intermix Glass Beads , Traffic Paint Drop-on Glass Beads, Abrasive Jetting Grinding Glass Beads, All-weather Rain Night Reflective Glass Beads for traffic paint.
Glass Beads are tiny spheres of glass that used in road marking paint and durable road markings to reflect light back to the driver in darkness or poor weather conditions - improving safety and visibility. The glass beads play a very important role in the road safety.
We can produce the products in according to the standard BS6088-A of England and BS6088-B of England, AASHO NO. I and AASHO NO. II of American, Drop ON Type EN 1423 and Premix Type EN 1424 of Europe, AS2009-B and AS2009-C of Australia and KSL2521 of Korea etc. At the same time, we can also supply from 850um(20mesh) to 45um(325mesh) different size, different proportion products according to the customer request.
Item name Glow in the dark cheap road safety reflective road marking paint glass beads
Particle size Customers can choose different sizes of glass beads from 0-1180 microns depending on the application purpose
Hardness 6-7
Density 2.5g/cm³
Index 1.5
Color Transparent
Content SiO2 >=70%
Package 25 kg paper bag or 1000 kg bag
Circularity ≥80%
Appearance colorless transparent sphere, rounded and smooth, no obvious bubbles or impurities
Usage 1. used for the metal cleaning and polishing and keep the precision
2.also used for machinery sand blasting,enhancing the surface hardness.
3.Used for reflective road marking paint glass beads.
-- Clean and smooth.
-- High mechanical intensity, hardness, flexibility
-- High purity and good quality meet the international standard.
-- Stable chemistry property, not pollute the metal processed.
-- Low breakdown rate, Lower disposal & maintenance costs
-- Good cosolvency with the road coating.
1.Using double-deck package, the inner is polythene film and its thickness is not less than 0.5mm,the outer is plastic woven bag to prevent leak or damp. The net weight of each bag is 25kg.
2.Using double-deck package, the inner is polythene film and its thickness is not less than 0.5mm, the outer is plastic woven bag to prevent leak or damp. The net weight of each is 1000kg.
3.According to clients' requirement.
WELCOME YOUR INQUIRY!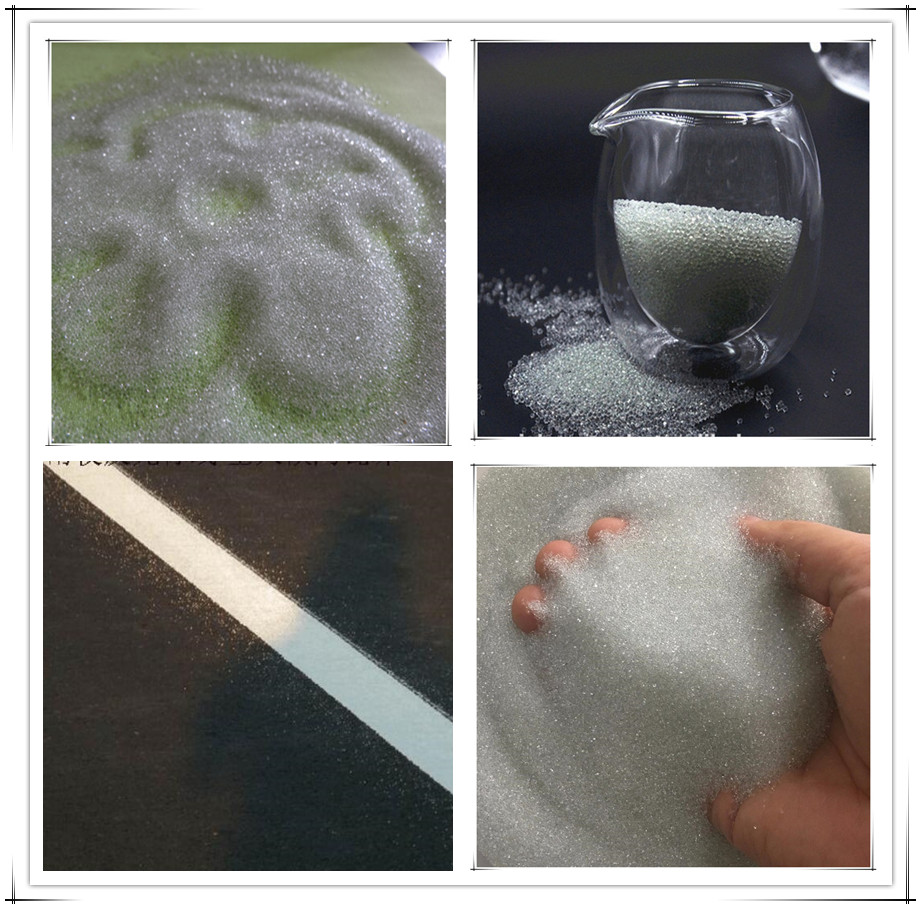 The production process of Traffic Paint Reflective Glass Micro beads is divided into six steps:
The production of glass beads should choose raw materials, raw materials determine the quality of the

Micro Glass Spheres

, raw materials should choose clean glass with good strength and toughness.

Then make the glass crush into glass sand, according to the size of the granularity, crushed into a uniform moderate glass sand, in order to save manpower and material resources during burning.

The glass sand drying, then use the gas furnace for firing, the natural gas temperature adjusted to 800-1000 degrees, also check the roundness of the glass beads.

For Glass Beads in Traffic Paint semi-finished products, sieve with the shaker.

The screening of qualified glass beads, according to a certain proportion to mix, if you need to coating, Pavement Coated Glass Beads
need to be completed before stirring.
Reflective Road Marking Spherical Glass Beads

Packing and shipment.
Looking for ideal Reflective Glass Bead Road Marking Paint Manufacturer & supplier ? We have a wide selection at great prices to help you get creative. All the Colorless Transparent Sphere Beads are quality guaranteed. We are China Origin Factory of Reflective Aashto Road Marking Glass Beads. If you have any question, please feel free to contact us.
Product Categories : Road Marking Reflective Glass Beads > AASHTO M247 Glass Beads